We are happy to once again contribute to the program of the 5th GreenEvents Europe Conference which will be held on nov 3rd and 4th, 2014, at Wissenschaftszentrum Bonn, Germany. The 5th edition of GreenEvents Europe shows that the evenz has established a kind of tradition. It also highlights the growing importance of and the continuous interest in sustainability and events.
As always GreenEvents Europe offers high-level input by speakers from international major events such as Roskilde Festival, Shambala Festival, We Love Art/We Love Green Festival, Sziget Festival, Tollwood, Eurosonic Noorderslag and Deutscher Evangelischer Kirchentag as well as leading institutions like Julie's Bicycle, WWF, Green Music Initiative, A Greener Festival, Powerful Thinking, The Round Table / Stop Wasting Food, 10.000 hours. Those and you will meet, discuss and exchange with scientists from bodies like TU Hamburg-Harburg, Kulturwissenschaftliches Institut Essen and Bucks New University as well as with the experts from Velomax, Service Design Berlin, Energieagentur NRW, EcoLibro, Movendium and Morethanshelters.
The opening session will be highlighted by a keynote speech of the multi-awarded director Valentin Thurn ("Taste the waste"). And there is more to come very soon. Find the whole program here.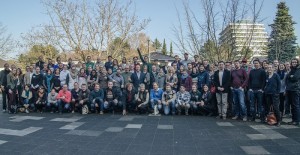 GreenEvents Europe 2014 focuses on "more sustainable food & beverage at events" without neglecting other important topics like transport and mobility, energy, resource management and new technical developments. These topics will be discussed with all parties involved (promoters, venues, suppliers etc.). Issues to be discussed are among others Food, drinks and Rock'n'Roll (various sessions and topics), Social Impact of events, Post consumerist economy, Attitude & behaviour gap, Greener Touring and Greener Arenas, Sustainable Event Design, Sustainability in extreme situations and Transport and Mobility.
Special travel offer
We really recommend travelling to GreenEvents Europe by train with the DB Eventticket for GreenEvents Europe, which includes first class travel for only 99 Euro from all destination within Germany and back. This service runs completely on renewable energy and saves you a serious amount of money. Just check it here.
Registration:
350 € for regular GreenEvents participation
250 € for GreenEvents delegates from 2010 and 2011
175 € for second GreenEvents participant from one company/festival
You can register here. There's a discount for Yourope-members and/or Sounds For Nature-Festivals: 50 Euro (for one delegate per company/festival). The variety of urging topics requires sessions and workshops to be organized in parallel. Therefore, form a team or bring a colleague. See our discount on the registration fee for more than one delegate per company. Please contact us directly for group offers and student rates (limited capacity).
Confirmed Speakers:
(in alphabetical order, subject to change, more tbc) Keynote by:
Valentin Thurn
, Director of "Taste the Waste", GER
Jochen Bader
, Morethanshelters, GER
Chiara Badiali
, Julie's Bicycle, UK
Andre Balaz
, Charged Mind, SLV
Nienke Bassle
,10.000 hours / ID&T, NL
Friederike Behr
, Kulturwissenschaftliches Institut Essen, GER
Kevin Bendix
, The Round Table / Stop Wasting Food, DK
Ruud Berends
, Eurosonic Noorderslag, NL
Jacob Bilabel
, Green Music Initiative, GER
Nadja Flohr-Spence
, WWF, GER
Sybil Franke
, Velomax Berlin Hallenbetriebs GmbH, GER
Sabine Funk
, GreenEvents Europe / Sounds For Nature, GER
Daniel Goliasch
, WWF, GER
Manuel Grossmann
, Service Design Berlin, GER
Christoph Hertel
, Evangelischer Kirchentag, GER
Martijn Hulshof
, MovendiuM, NL
Chris Johnson
, Powerful Thinking, UK
Dunja Krabaic,
Bureau Green, GER

Matthias Kulcke
, HafenCity University / TU Hamburg-Harburg, GER
Hendrik Landwehr
, Mach Dich Bunt, GER
Volker May
, IMMF / FZW Dortmund, GER
Teresa Moore
, Bucks New University, UK
Verena Müller
, Energieagentur NRW, GER
Jürgen Nimptsch
, Mayor of the City of Bonn, GER
Armin Nöth
, Headline Concerts, GER
Jan Christian Polanía Giese
, Thema1, GER
Claire O'Neill
, A Greener Festival / AIF, UK
Marie Sabot
, We Love Green, FRA
Mikkel Sander
, Roskilde Festival, DK
Martin Savitek
, Karmakitchen, GER
Helen Schepers
, KonzertKultour, GER
Holger Jan Schmidt
, GreenEvents Europe / Sounds For Nature, GER
Michael Schramek
, EcoLibro, GER
Danny Simons
, Grand Hotel Van Cleef, GER
Prof. Peter Stehle,
Universität Bonn, GER

Fruzsina Szép
, Yourope board member & Berlin Festival, former with Sziget Festival, HUN
Stephanie Weigel
, Tollwood Festival, GER
more to be announced soon
Accomodation
Pls contact GreenEvents' partner agency Travel Deluxe for special hotel offers (for contact pls. follow link).
Green Events Europe is an event of:
Sounds For Nature Foundation e.V. – www.soundsfornature.eu
BN*PD | Bonn Promotion Dept. | Funk & Schmidt GbR – www.bnpd.de
GreenEvents Europe is funded by:
Foundation for Environment and Development North Rhine-Westphalia – www.sue-nrw.de
GreenEvents Europe 2013 quotes:
(You can download the full conference report 2013 here.)
"Looking at the growth and development of the Green Events Conference since 2010, it is proof for the importance for more sustainable events and the great work that has been done for this conference."
 Christof Huber (chairman of Yourope – The European Festival Association)
"Green Events 2013 really took the next step and dared to take a holistic view upon the hotspots. So after poo, tents and waste the most pressing – and still unsolved – question seemed to be: how to power your festival on renewables. With this mission defined all participants left more informed, more inspired and very much looking forward to the next year."
 Jacob Bilabel (founder Green Music Initiative)
"This year's Green Events conference surpassed all previous years. Great topics, great speakers, brought together to explore an even broader range of issues and contexts. No wonder the audience was the biggest yet. Well done the Green Events team."
 Teresa Moore (Bucks New University)
"This is my second visit to GreenEvents. Each time I have left inspired and encouraged about the level of expertise and passion behind making events better, and honestly addressing our environmental challenges. There is always much work to be done and more to learn, and this event helps to accelerate that process." 
Claire O'Neill (A Greener Festival / Association of Independent Festivals)
"This years conference was another meeting of minds, with scientists, festival promoters and events professionals coming together to share experiences and knowledge – a few longstanding mysteries were solved for us, such as how many times do you need to use a re-usable cup to be more ecologically beneficial than a disposable? Green Events conference is a place for facts, inspiration and action."
 Chris Johnson (Powerful Thinking / Shambala Festival)
"GreenEvents Conference is a stirring opportunity of meeting like-minded professionals to discuss best practice toolkits for sustainable event production in general and of getting inspirations to develop new tools for our own events." 
Marten Pauls (Campo Event Engeneering / Rock Am Ring)
"The thing that got to me was the session on plastics. The photographs and the commentary given by Claire were horrific but the results shown as a result of banning plastic bottles from the Shambala Festival were so positive and show us the way forward. Tell the world!" 
Carl A H Martin (Arena & Stadia Design / Operational Consultant)
"Serving food that is both delicious and ethical at public events not only pleases the crowds, but it also supports local farmers and food producers, strengthens the local economy and is better for the environment – let's see how far we can take this!" 
Nadja Flohr-Spence (Slow Food Germany e.V.)
"The Elephant Round brought up a tough theme, as it was said: "A dark cloud could be felt in the room." But there lies the true strength to raise questions with hard answers, to think, to struggle to find a solution. Is Bono killing polar bears? Well, try to think about it, the answer is nowhere close, but there will be one…" 
Vladimir Vodalov (Exit Festival)
[gplusbutton]
Tweet