What a great evening we had at the 6th European Festival Awards at Eurosonic Noorderslag 2015 in Groningen. We announced this year's winner of the Green Operations Award and it's Roskilde Festival & Stop Spild Af Mad! Congratulations! You did an absolutely stunning job! Including social responsibility and change, (food) waste reduction, volunteer work, sustainable leadership, Inspiration and passion… loads of passion!
Maybe it was the most impressive action regarding sustainability to be seen in the 2014 festival season. Roskilde is already a monster and temporarily the 4th largest city in denmark. Taming it, running it as sustainable as possible and on top doing such a great job as the STOP WASTING FOOD people did, is priceworthy. Almost 30 tons of food were saved at the 150+ food stalls at the festival alone. Food that most likely wouldhave been thrown away now went to homeless shelters, refugee camps etc..
Apart from that let's not forget the leadership of the Roskilde Festival in the Green Movement (Roskilde Green Footsteps),  the social aspects (Roskilde Social Responsibility) and the everlasting will to share expertise, experience and knowledge
Niklas Lundel from2013's winner Way Out West mentioned during the jury process: "Wow, they continue to struggle and improve… without losing its broad attention and target Roskilde tries new solutions, pushes boundaries and drives campaigning and opinion making. Nudging the masses and details for the informed. By the way the total result, which is a lot, is given to charity."

For the Green Operations Award jury "green" does not only mean "environmental". When we talk about sustainability, the social aspect is also taken in account. More and more one aspect cannot be parted from the other one.  A festival with 30.000 volunteers that is run as a charity is a social experiment with an impact on the environment that is very well handed by the organizers and teams. It it is an successful example for a couple of decades now. A shining example for many festivals no matter whether new or established.
It is not a wonder that this festival teamed up with such a positive, exceptional, privately run initiative that deals with one of the most important issues of life: Food. In a world that sees millions of people hungry and millions of tons of food thrown away* it is important to have eye-openers like STOP WASTING FOOD. And what better stage they could get than Roskilde? And what a result they delivered: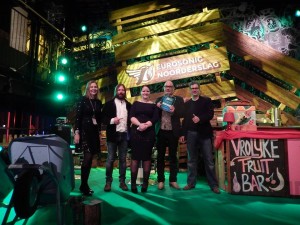 27,5 tons of food collected and prepared to 65.000 meals by 70 chefs and volunteers in ten full working days and delivered to 60 institutions in need. That's a green operation and it's worth the award.
Let's not forget the other four on the final short list. Their performance was absolutely awardworthy as well! Well done Ilosaarirock, NorthSide, Shambala and Welcome To The Future! keep up the great work!
(* The food thrown away in Europe and North America alone are enough to feed all those hungry people in the world – 3 times! And yes, festivals are no exception.)
[gplusbutton]
Tweet