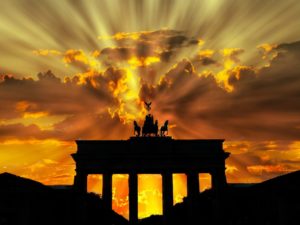 Responsibility – this is the GO Group leitmotif. After implementing green issues as a core value in the festival and events branch in the past years GO Group now adds a strong focus on social topics and the responsibility for ourselves to its agenda. Like no other institution our pan-european think-tank is bringing together hundreds of festivals, scientists, initiatives and suppliers involved in festival and event organisation to foster exchange on an international basis.
We are happy to once again present our interactive, open and communicative format known as the "GO Group workshop" with international guests from all over Europe. It's time for the 7th international GO Group workshop in Berlin. We kindly invite you to this 2-day seminar at Alte Münze, on April 16 and 17, 2018.
The 7th GO Group workshop for sustainable festivals and events will focus on these two topics: "Values, Credibility & Attitude" (day 1) and "Work, Life & Us" (day 2). We have arranged an exciting mix of presentations, case studies, talks, creative workshops, roundtable discussions and networking events on both days! (Find invitation and info pdf here)

The GO GROUP workshop is an event by GO GROUP, Green Music Initiative, Yourope – The European Festival Association. The workshop is kindly hosted by Festival Kombinat and Spreewerkstätten Berlin.

We are grateful for the support also of Velomax Berlin and Fritz Kola!


Confirmed sessions & speakers

Day 1
Mon 16 April 2017, 10h – 18h 
Main topic: "Values, Credibility & Attitude"
incl. lunch & Coffee Break
We bring music to society. We put a smile on thousands of people's faces. Festivals and concerts are spaces for freedom, celebration and letting go. The question is: can we also provide ideas and examples beyond entertainment in order to create dedicated citizens, more inclusive communities and better living spaces for all? We want to discuss whether and how festivals, artists and events can be socially relevant and what they can contribute to civil engagement. Should promotion of positive change be as normal nowadays as putting an artist on stage?
Let's GO!
The opening to the 7th international workshop setting the tone and giving all neccessary info for two exciting days. The first round-up with your hosts for the event:
Berlin with a heart
Let's talk with festival managers about motivation, purpose and attitude with
Cooperation is gold… and water
The incredible success story of Viva con Agua & Goldeimer & Millertor Gallery
From festivals to politics & from politics to festivals
An open discussion about what our sector can contribute to social change with
Take A Stand – Bringing attitute to life
a creative group workshop with
Day 2
Tue 17 April 2016, 9h – 16h
Main topic: "Work, Life & Us"
incl. Coffee Break & lunch
We think about sustainable approaches and eco-friendly solutions for events, the safety level for concerts has never been higher than today. But while we make an incredible effort to professionalize and improve our events and to please our customers and fans, we are very likely to forget ourselves on this journey. We want to start talking about this – because issues like responsibility, pressure and burnout are just as much a part of our business as sex, drugs and rock'n'roll. For a whole day we want to devote ourselves to ourselves. This day is about experiences and expectations, about who can help when needed and how. About new, smart and contemporary approaches on working conditions, accessibility, motivation and appreciation.
 
Survival Tools for Serenity 
An introduction into challenges faced, tools used and people met while trying to find your very own true north. A personal story.
Jacob Bilabel | Good Life Academy, DE
A Greek Recipe for Happiness in the Hyper Digital Age,
With every new digital device speeding up our felt need for virtual interaction, where and when is the right point of just saying 'No'? 
Choosing between life and work?
How to find the missing link and translate cultural concepts of life and work
Mental Health and Mindfulness
A no bullshit introduction into the science behind the connection between attention, breathing and a good life.
5 things I have learned about life – in an industry that never sleeps.
A talk between two friends. And how they got to where they are now.
Carlijn Lindemulder | Founder 10.000 Hours, ex-ID&T, NL
Jacob Bilabel | Good Life Academy, DE
How to survive and thrive in the music industry (and the real world)
An interactive workshop session on how to ask for help, tell your very own story and a card game.

Confirmed GO Group speakers:
Christian Baechler | Woowai – The liberating Company, CH
Philipp Baerfuss | Woowai – The liberating Company, CH
Jacob Bilabel | Green Music Initiative & Good Life Academy, DE
Martha Bißmann | member of the Austrian parliament, AT
Max Bohm | Intiative Offene Gesellschaft, DE
Kevin Braddock | Torchlight Systems, UK
Cecile Cayla | Happy Panda Project, FR
Manuel Großmann | Fuxblau, DE
Gregor Kalchthaler | Intraprenör, DE
Patrick Köhn | Viva Con Agua de St. Pauli, DE
Carlijn Lindemulder | Founder 10.000 Hours, Amsterdam Dance Event, NL
Maya McBeath | Fuxblau, DE
Holger Jan Schmidt | GO Group, Yourope, DE
Fetsum Sebath | PXP Festival, ERI/DE
Linnéa Svensson | by:Larm, NOR
Fruzsina Szép | Lollapaooza Berlin, , Yourope, HUN/DE
Networking events & Specials:
Sun 15 April 2018, 19h
GO Group get-together
There will be a casual get-together on the pre-workshop evening at a nice restaurant close to the venue. (on everyone's own expenses)
Mon 16 April 2017, 20h
The GO Group Dinner
The official workshop networking dinner is the secret star of the event. Follow up the day's hot topics, get to know eachother more, start a friendship… everything can happen here!
The dinner is kindly hosted by Yourope (the European Festival Association)
Registration Fee:
238,00€ regular fee incl. all fees, 19% VAT and lunch on both days.
178,50€ special rate incl. all fees, 19% VAT and lunch on both days for Yourope & Festival Kombinat members only
REGISTER here.

Hotels close to venue:
Holiday Inn Express Alexanderplatz  (250m to venue)
Stralauer Str. 45, 10179 Berlin
Online Booking
Novotel Berlin Mitte  (450m to venue)
Fischerinsel 12, 10179 Berlin
Online Booking
Motel One Spittelmarkt  (750m to venue)
Leipziger Str. 50, 10117 Berlin
Online Booking
[gplusbutton]
Tweet