Happy new year everybody! Usually the GO GROUP year starts off big in Groningen (NL) at ESNS. And somehow 2021 still does the same. Still at ESNS, but from home and in the virtual world.
We would like to draw your attention to these three sessions you can bingewatch in a row on Thursday January 14th starting at 14.00h CET. Let's GO: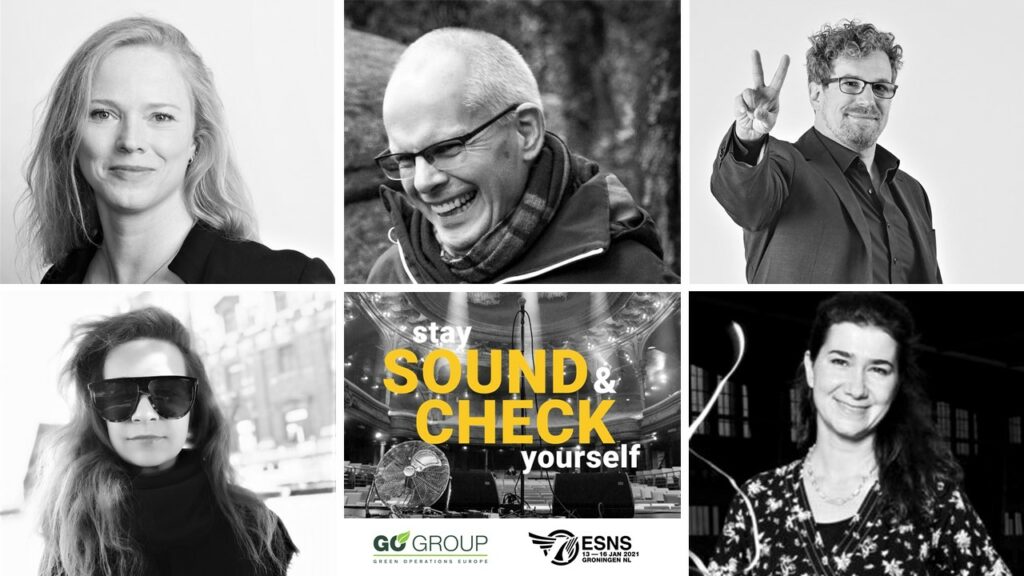 GO Group & YOUROPE present:
Stay SOUND & CHECK yourself
Mental health and stress behind the scenes of the live music industry – in normal and even more challenging times
This session at ESNS is the official release event of a book going by the same name. The authors' intention was to report on an industry that never sleeps and paint a picture of how those responsible for making the magic happen and fill millions of people's hearts with joy deal with the sector-specific challenges of mental health and stress. And then half way through the project all of a sudden the world was a different place – not only but especially for the live music, festival and cultural sector. In the book and in this session Prof. Dr. Katja Ehrenberg and YOUROPE's anchorman Holger Jan Schmidt give a lot of information and tell personal stories with the help of various colleagues from all over Europe. They will talk about the challenges pre-Corona, which lost none of their relevance for the time we get back to some kind of normal. And we will focus the new kinds of stress and pressure that arise from the current situation and form a major threat to the whole industry and to the mental health of those in it in particular: To be cast on the sidelines without being responsible for it yourself while finding yourself and your profession that you love and identify with exposed to a massive deficit in appreciation and at the same time to see how your own reserves and resources are dwindling without any concrete positive prospects. For many, this is associated with a feeling of being lost, one of existential fear and of wanting to work but not being allowed to. But there are also beams of light and hope as well as potential for positive change. Join us and find out about it in a session featuring:
Lina Urginovska (MKD| Taksirat Festival)
Fruzsina Szép (HUN/GER | Superbloom Festival)
Prof. Chris Kemp (UK | Mind Over Matter Consutancy)
Prof. Dr. Katja Ehrenberg (GER | Hochschule Fresenius)
Holger Jan Schmidt (GER | GO Group, host)
Take A Stand presents
BRAVE NEW WORLD
We want to talk about the human factor of our business. Idealisms vs. business. We had one year to look deep into ourselves, our teams and our business. A year to re-shape us and our future. We learned what it means to take care of each other and of ourselves. We had time for self-reflection and we have learned how amazingly lucky we all were the last years not to live and plan and work with a pandemic…For one year we were no more competitors, we were all sitting in one boat and we worried and cared for each other. In what way did the year 2020 change our mindset and our business models? How do we see the short and long term future after Corona, will there be changes and if so, which ones or will it all go back to how it was before? Look at this great lineup of speakers:
Fruzsina Szép (HUN/GER | Superbloom Festival)
Codruta Vulcu (ROM | Artmania Festival)
Eric van Eerdenburg (NL | Lowlands Festival)
Alex Bruford (UK | ATC Live)
Michal Kaščák (SLK | Pohoda Festival)
Gordon Masson (UK | IQ Magazine, host)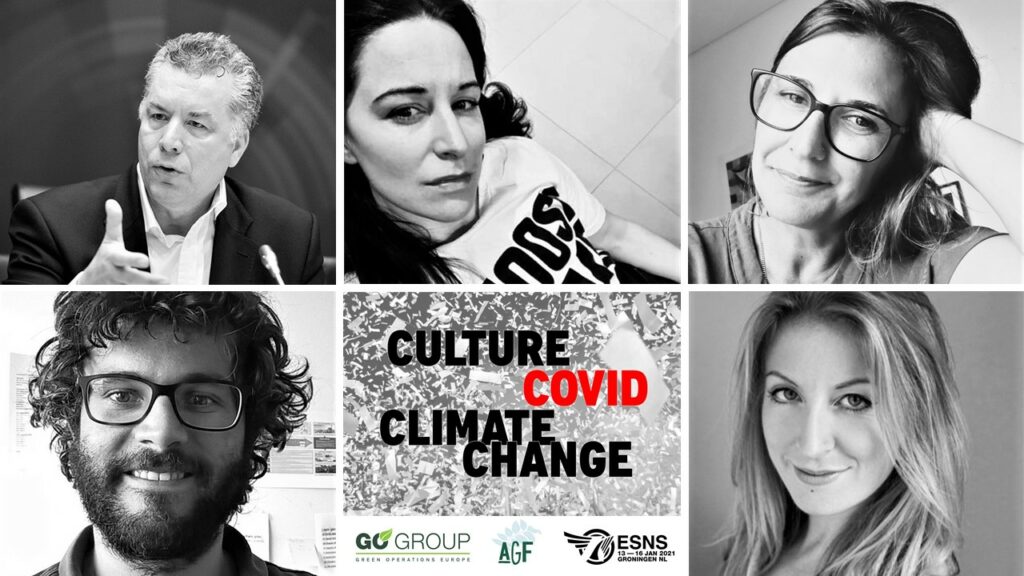 GO Group & A Greener Festival present
CULTURE – COVID – CLIMATE CHANGE
Never waste a good pandamic – Cuture's responsible restart into a New Normal
Did we loose a year in our fight on climate change while being forced to focus on something completely different? Or does this crisis also bare something positive and a chance for real change? While our industry was locked down almost completely European CO2-emissions decreased by 11% the Global Carbon Project reports. The European Union kick-started the European Green Deal and in the middle of Corona's second wave the EU heads of State and Government comitted to even stricter climate goals until the end of this decade: a reduction of 55% instead of 40% compared to the numbers of 1990. But what happens when we get out of this crisis and the flood gates reopen for tourism, consumption and also for culture and entertainment. How do we keep our promises, live up to our responsibilities and even set lighthouse examples while we cheer for the new freedom, regained opportunities and seek to make up for the losses suffered in the past year. We will lead this uncomfortable discussion with an exclusive set of speakers (see below) talking from many angles such as the perspectives of promoters, artists & activists, science & innovation and last but not least politics.
Dora Palma (PT | Rock In Rio, Lisbon & Rio de Janeiro – head of sustainability)
Dr. Christian Ehler (GER | MEP)
Dr. Stefano Barberis (IT | Rina Consulting & Everywh2ere)
Fay Milton (UK | Music Declares Emergency & Savages)
Claire O'Neill (UK | A Greener Festival, host)
Register at www.esns.nl – See you next week!
[gplusbutton]
Tweet