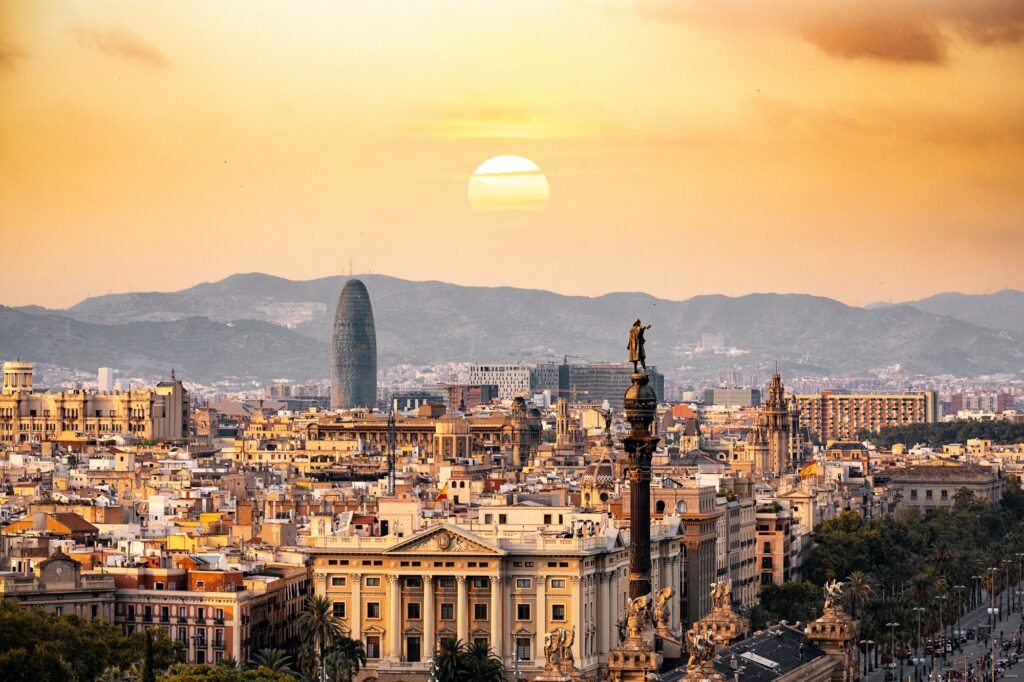 We are looking forward to meeting you again, because we want to talk about today and tomorrow, about green issues, sustainability and climate action. In over ten years of existence our pan-European think-tank GO Group like no other institution brought together hundreds of festivals, scientists, initiatives and suppliers involved in festival and event organisation to foster exchange on an international basis. Finally it is time for the next chapter! We are happy to once again present our interactive, dedicated, open and communicative format known as the "GO Group workshop" with international guests and participants from all over Europe:

9th international GO Group Workshop
"Future-Fit Festivals"
Fabra I Coats | Barcelona (Spain)
17 & 18 April 2023

We kindly invite you to this 2-day seminar on April 17 and 18 2023 to a special place on the European festival landscape: Barcelona. We prepare this event with the kind support of Primavera Sound, FMA and Sound Diplomacy.The 9th international GO Group workshop will deal with what we need and what we can do to become "Future-Fit Festivals".
We provide an exciting program featuring an extraordinary mix of inspiring keynotes, presentations of brand-new tools and case studies combined with creative workshops, discussions, talks and networking events on three days. We are looking forward to speakers from major events as well as scientists, experts and activists.
The program includes (more and details to be announced soon / subject to change / The workshop language will be English.):
Confirmed GO Group speakers (in alphabetical order)
Nikita Coulter (AGF, IE)
Marina De La Fuente (Gabeiras y Asociados, ES)
Ramon Garriga (Primavera Sound Foundation, ES)
Vincent Langlade (Fluctuations, FR)
Chris Johnson (Green Event international & VISION 2025, UK)
Fiachra McDonagh (Rototom Festival, ES)
Milan Meyberg (Sustainability Strategist, NL)
Azuzena Micó (Sound Diplomacy, ES)
Claire O'Neill (AGF, UK)
Paula Raez (Asociación de Festivales de Música, ES)
Holger Jan Schmidt (YOUROPE / GO GROUP, DE)
Fine Stammnitz (Green Music Initiative & Green Touring Network, DE)
Miriam Torres (Primavera Sound, ES)
Linnéa Vågen Svensson (Greener Events, NO)
Bob van Ort (Cicero Research Center Oslo, NO)
Katharina Weber (YOUROPE / GO GROUP, DE)
GO GROUP workshop sessions on Mon 17 & Tue 18 April 2023:
Opening: GO Group is back "Harder, Faster, Greener, please!"
Finally, we're back together again. Let's kick this thing off in style! Learn who's in the room and what is waiting for you – in these days and the future. We have a lot to do!
European Green Festival Roadmap 2030
The past year YOUROPE worked on Your action plan helping festivals achieving the goals of the European Green Deal. Let's take a close look together. The Roadmap visualises areas where festivals and other events need to accelerate to cut their emissions by 2030 and become climate neutral by 2050, according to both EU policies and the UN Paris agreement. It contains easy access advice for a number of focus areas as well as differentiation on various levels of expertise in the organisation. Each focus area offers lists of measures applicable for different levels of impact and readiness. In this way, each festival or event will easily be able to create its own sets of goals and measures to follow the Roadmap. Each focus area is connected to the relevant SDG.
Future Festival Tools
A dream team of leading organisations in events and sustainability from across Europe spent their time during the pandemic quite constructively. Future Festival Tools brought them together in a project to tackle the industry's environmental impact by creating tools, resources & training for the festival industry and we show them today. They will help empowering event professionals across Europe to be future-ready, with green competency, tools and personal certification. We show Future Festival Tools':
self-assessment tool for festivals and events
green festival stories guide with inspirational cases from all over Europe
e-learning course for everyone working in festivals and events
AGF Award & Certification
Not for profit AGF, now named A Greener Future, are pioneers in event sustainability and creators the world's first sustainability standards for festivals and events. These have come a long way over 17 years through continuous research and development as well as implementation with the international festival community. The culmination of nearly two decades of work has brought the sector the gold standard for green festivals in the form of A Greener Festival Certification. Many festivals across Europe have undertaken the AGF certification process which not only grades and independently verifies sustainability actions across 11 key areas, but also provides detailed feedback for improvements year on year. AGF CEO Claire O'Neill will discuss the steps becoming certified alongside Primavera Sound who have gone through the process themselves.
Primavera Sound Case Study
The Barcelona based major festival is not only a globally renowned brand with offsprings in Europe and America. It has a long history with sustainable development as well – ecologically and socially – resulting in a signed voluntary commitment to the Sustainable Development Goals (SDG) since 2019. The Primavera Sound Foundation works all year round with NGO´s and associations to promote and incentivise the "Primavera spirit" to the Spanish society. We will learn about festival's dedicated projects, initiatives and campaigns that gained Primavera Sound a highly commended AGF Award in 2022.
Seriously, we need to talk… about BEER.
You honestly can't imagine festivals without it. It is the standard drink of our visitors, artists and crews (after hours). It is a major source of income in the beverage department and at sponsorship level. But what impact does beer have and how do we deal with it?
GO GROUP's (almost) legendary future-mapping workshop
Get your head, hands and hearts ready, but let us explain first: This workshop is based on the work of system scientists Otto Scharmer and Peter Sengeand at MIT -Massachusetts Institute of Technology. Their Theory U process at the Presencing Institute aims at helping systems, societies and people to emerge a better future. The 3D Mapping is a tool we use to bring multiple dimensions and perspectives to seeing and understanding the elements of the system together (co-sensing). During this physical mapping process, the teams will collaboratively co-create one-or several – depending on groups size- 3D model(s) of festivals' current reality and of the future. This thing actually is playful, interactive, surprising and a lot of fun, too!
FMA's brand new guide to circular festivals
The 'Guide towards circular festivals' focuses on the implementation of circular waste management, as a basic pillar of sustainability in music festivals. Given the current proliferation of norms at Spanish (and European) levels on the matter, it provides useful and practical tools on how to implement the new requirements, and spreads knowledge and recommendations on best practices. It is developed by FMA – Asociación de Festivales de Música (Spanish Music Festival Association). Founded in 2016 it represents more than 25 of Spain's most popular music festivals – such as BBK Live, Sonar, Rototom or Mallorca Live.
Rototom Festival case study
The largest reggae music festival in the world, Rototom was born in the early 90's with a strong social commitment to spread peace and defend culture and the arts. They have always had a strong commitment with sustainability and were the first festival in Spain to obtain a CO2 emission certificate; they are currently in the path towards carbon neutrality.
The value of events – how to measure your social impact?
In this session, Azucena Micó will be presenting a project Sound Diplomacy has worked on with the Barcelona City Council to develop a tailored plan to analyse the value of events locally in order to determine public investment. With the aim to encourage more public support for events and festivals, drive recovery and meet the Sustainable Development Goals, Sound Diplomacy has developed a framework to analyse the economic, social, culture and environment benefits events and festivals bring to communities, to determine how governments can best decide to invest in them.
Fluctuations – Follow the rivers of change
Let's hear it from an inspiring project that is in its development phase. Fluctuations aims to bring the festival to the people rather bringing people to the festival. A floating festival is to be created traveling across Europe's many rivers to mobilize citizens on social justice and ecology. In every city where the festival will stop, Fluctuations will mobilize young citizens to a movement, strongly rooted in the territories crossed in order to create concrete proposals, designed by younger generations.
Festivals As Social Innovation Incubators
Let's find out how festivals can realize their potential as platforms for young innovators to implement their own ideas for the benefit of society. FUSION, a partner project involving Roskilde Festival and YOUROPE, created a set of tools to help festivals, NGOs and young innovators to realize the potentials at hand. In this session for the first time we will present you inspiring cases, a comprehensive toolbox and inputs from experts from the fields of education, social innovation, youth work and, yes, festivals.
Beyond the practical: Exploring the future of Sustainability, Society and Festivals.
It seems that not a single day goes by that yet another climate report confirms the scientific consensus: Climate Breakdown has begun. With the current 1.2 degrees of global warming, scientists warn it is highly unlikely that the planet will stay within the safe environmental boundaries needed to prevent widespread ecosystem collapse… Time is running out.
What can still be done to prevent the worst case scenarios from happening? Are these scenarios truly inevitable?  Or are there new systems, technologies and ideologies emerging we have not yet explored? What role do festivals play in the grand-scheme of things?
In his thought-provoking keynote, Milan Meyberg presents his bold new concept for ecosystem protection and regeneration, firmly based on the principles of Environmental Personhood, Artificial Intelligence and Gaian Systems Theory. To some, his concept and vision for a future 'Symbioscene' may seem like science-fiction. However, as more festivals are expected to reach circularity and eventually regeneration in the near-future, Milan makes a strong case that the very function of festivals within society is about to change…
With this keynote, Milan sets out to verify his assumptions, and hopes to find as many (festival) organisations as possible who are interested in co-developing and/or launching the concept on a global scale. 
Networking events:
The Sunday night get-together (Sun. 16th April)
@ La Forestera Restaurant | C/ de Sancho de Ávila, 22, 08018 Barcelona
As always we meet for a casual get-together on the eve of the workshop at a nice location.

GO GROUP's "Fat Veggies Dinner" (Mon 17th April)
@ Fat Barbies restaurant | Carrer de Muntaner, 189, 08036 Barcelona
The official GO Group dinner is the secret star of the event. Let's follow up the day's hot topics, get to know each other more, start a friendship… everything can happen here!
Registration Fee:
150€ regular price incl. all fees and lunch on both days.
special rates for YOUROPE members or partners please chose ticket number and enter your discount code (if you think you're eligable to a discount, but don't have the code, please get in touch)
This will be amazing! All the best & see you all in Barcelona!
The 9th international GO GROUP workshop is embedded in YOUROPE's three-year project 3F – Future-Fit Festivals, which is co-funded by the European Union.

[gplusbutton]
Tweet