Yesterday evening (wed 15th of January 2014) the Green Operations Award 2013 winner was revealed at the Festival Awards Europe 2013 ceremony at Eurosonic Noorderslag in Groningen. The award jury choose the winner and it is WAY OUT WEST (Sweden). Congratulations!


The Award was presented by Holger Jan Schmidt, member of our Go Group and Yourope's anchorman for green issues. Find out more about the underlying idea for the Green Operations Award here.
The awarding speech:
"Good evening everybody,
When I started putting together a jury for this award and being its coordinator I thought: Wow, what an opportunity. This is cool and it most certainly is. It's so exciting putting together strong groups of festivals every year for the long list. Then destilling them down to a short list of absolute green spearheads and trailblazers.
But they are so different in style, approach, size, circumstances and priorities. Now: Who are we to decide who's better? Actually that's almost impossible. But we still try to do it.
Take a look at the nomminnees. These festivals are
Bestival (UK)
Fusion (GER)
Rock For People (CZ)
Shambala Festival (UK)
Tollwood Festival (GER)
Way Out West (SWE)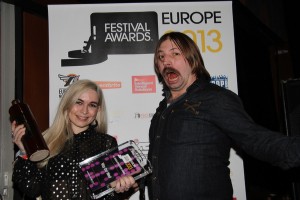 Standing here and presenting our Green Operations Award winner means not giving it to those other festivals that probably deserve it just as much. As those Festival Awards people didn't let me present six awards this year we finally had to go for one winner.
For a festival that takes its stand and responsibility in a world that very invidiously deals with its ressources, with climate change and which weakens once taken positions and decisions due to lobby pressure and against the generationss, who will visit the festivals of the future.
What we acknowledge is outstanding performance, leadership and innovation and maybe brave action that goes beyond the average festivals achievments.
Our winner has a fabulous sustainablity approach on a triple bottom line. Fortunately for all of us they let us know and learn from their achievments.
Besides their mobility program,ISO 20121 certification – the first one for a major festival -, energy efficiency strategies, waste and recycling mnagement, and research efforts with important results, the brave step they made after finding out catering was the main emission contributor was going "all vegetarian" in 2012 and continued in 2013 successfully and without hassle.
At least and importantly the decision was made for the festival's impact and not against peoples's lifestyles. Although this kind of conscious move could easily cause some serious thoughts by anyone. Honestly, I am a meat eater and it made me think about the what, how often, how much a big deal and I applaud to it!
Ladies and Gentlemen, please give a big hand for this year's Green Operations Award winner:
Way Out West from Sweden "
More information about the other European Festival Award winners here. More vids and pics here
[gplusbutton]
Tweet