We are happy to announce that GO Group was able to organize three panels for an event regarding the finnish events and festival scene. As part of the national "JOHDE 2010 – 2013" project the seminar on may 2nd at the Musikkitalo (Auditorio, 10 – 16h, Mannerheimintie 13 A, Helsinki) will show what GO Group is all about: Sharing best practise, bringing together people from different countries, showing different angles to view from. Main topics will be communication, mobility and catering.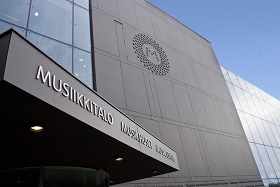 The session will be in English and hosted by GO Group's very own Holger Jan Schmidt. If your finnish is good enough go here for more information. The participation fee is 30 Euro. We are looking forward to meeting new and interesting people in Helsinki and talking about how to run oerations greener, smarter, more sustainable.
Partners of this event are among others the Sibelius Academy (which the Musiikitalo is a part of) and the University of Turku.
Seminar schedule:

10.00 – 11.00   Greener, Smarter, More Sustainablen1
"Green Festival Communication" by Holger Jan Schmidt – presentation
"Knowing The Audience" by Teresa Moore – presentation

Small coffee break

11.15 – 12.30 On the move – Mobility Session
"Glevmo Event Mobility" by Martijn Hulshof – presentation
"goCarShare Case study"  by Drummond Gilbert – presentation

12.30 – 13.15     Lunch

13.15 – 14.30    On the move – Mobility Session
"Flow Festival Case study"  by Emilia Mikkola – presentation fin / summary eng
"ID&T / Mysteryland Case study" by Carlijn Lindemulder – presentation (coming soon)

14.30 – 14.45    Coffee Break

14.45 – 16.00    Catering Session
"Good Food Guide" by Theresa Douthwright – presentation
"Way Out West Case study" by Niklas Lundell – presentation
"Good Food For Festivals Guide" (don't forget to donate!) – download here
"The Good Food Guide for Festival and Street-food Caterers" (don't forget to donate!) – download here
You can find some pictures from the seminar in Helsinki here.
[gplusbutton]
Tweet